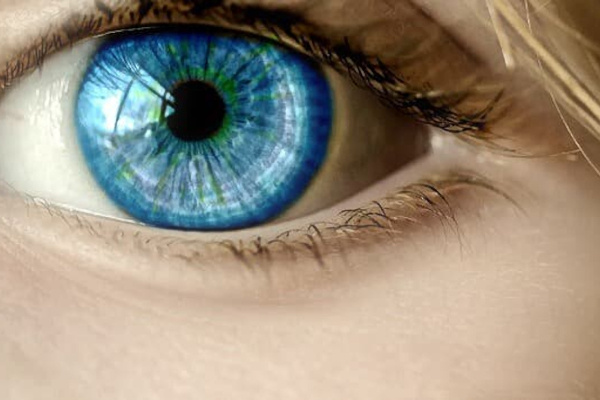 This model changes its photoreceptor cell denaturation started after 3 weeks from birth and loses almost all photoreceptor cell around 3 months of age. It shows a dysphagia abnormality of its retinal pigment epithelial cell by the photoreceptor outer segment, retinal degeneration of a recessive inheritance, and defect degeneration of Mertk gene.

Strain name : RCS/Jcl-rdy/rdy (homo)
Strain name : RCS/Jcl-+/+ (wild)

Nomenclature
- rdy homo (p mutation exist) = RCS-MertkrdyOca2p/Jcl
- rdy wild (p mutation exist) = RCS-+Oca2p/Jcl

■Characteristic
RCS rat photoreceptor cell denaturation started after 3 weeks from birth and loses almost all photoreceptor cell around 3 months of age.
It shows a dysphagia abnormality of its retinal pigment epithelial cell by the photoreceptor outer segment.
It shows a retinal degeneration of recessive inheritance.
It has a defect degeneration of Mertk gene.
It has been used as a retinitis pigmentosa model animal widely.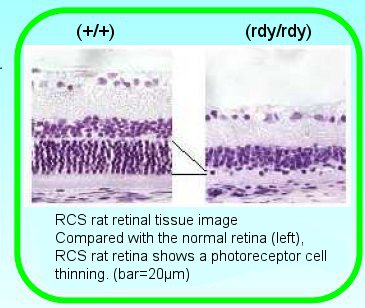 ■Origin
1938 Bourne discovered a rat with a retinitis pigmentosa phenotype.
1981 LaVail (UCSF) established the animal as a specific strain.
1990 Dr. Tamai (Tohoku U.) made the strain as a Specific pathogen free (SPF) animal after supplied it from LaVail
1994 RCS Research Committee inaugurated
1994 to 2016 CLEA Japan had supplied RCS rat as a paid distribution animal
2016 CLEA Japan started to sell RCS rat as a general commercial animal.
■Research Field
- Photoreceptor protection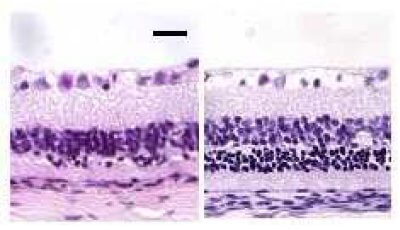 Growth factor administration
Basic fibroblast growth factor (bFGF, 1µg/μl) is administrated to the inside of a vitreous of the RCS rat, 23 days of age. The Phosphate buffered salts (PBS) administration group shows disappearance almost all of its photoreceptor cell layer (left image) but the bFGF administration group shows the layer by retardation of the degeneration. (right image)



- Retina reproduction study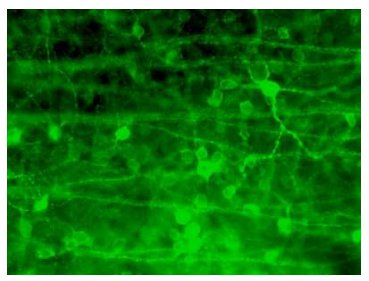 Visual regeneration by optogenetics
ChR2 gene is introduced to a ganglion cell of a photoreceptor cell disappeared RCS rat to aim the visual regeneration. The green color part of the above image is the gene expression of the retinal ganglion cells.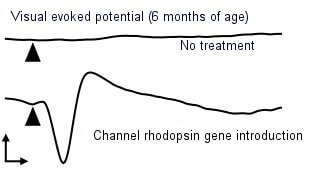 Reference

Bourne M.C, Campbell DA, Tansley K. (1938) Br. J. Ophthalmol., 22, 613–622.
Mullen RJ LaVail MM. (1976) Science, 192, 799–801.
Bourne MC Gruneberg H. (1939) J. Hered., 30, 130–136.
Gal A, Li Y, Thompson DA, et al. (2000) Nat Genet, 26, 270-1.
Tamai M, Yamada K, Takeda N, et al. (1997) Degenerative Retinal, 323-328.
Tomita H, Sugano E, Yawo H, et al. (2007) Invest Ophthalmol Vis Sci, 48:3821-3826.
Sugano E, Isago H, Wang Z, Murayama N, Tamai M, Tomita H*. (2011) Immune responses to adeno-associated virus
type 2 encoding channelrhodopsin-2 in a genetically blind rat model for gene therapy. Gene Therapy, 18(3); 266-74.
Tomita H, Sugano E, Murayama N, Ozaki T, Nishiyama F, Tabata K, Takahashi M, Saito T, Tamai M. (2014) Restoration of the majority of the visual spectrum by using modified Volvox channelrhodopsin-1. Mol Ther. 22(8), 1434-1440.
Catalogue (Japanese only)

■ Question / Inquiry / Order
Please contact us via website contact form for question / inquiry / order request.

If you want to confrim how to import CLEA Japan product, please click below