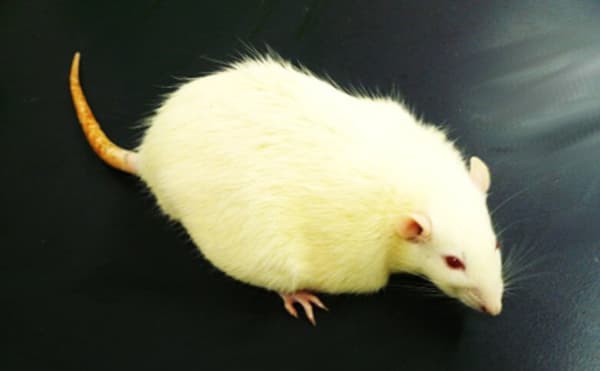 Recent studies discovered the spontaneous type 2 diabetic animal model Spontaneously Diabetic Torii fatty (SDT fatty) rat has many potentials to be drug discovery diabetic animal models such as Diabetic Nephrology, Diabetic Retinopathy, and Diabetic Cardiovascular Disease. Please let us introduce the detail at below.
Please click here for questions and inquiries

■ Diabetic Nephrology
CLEA Japan is now developing Diabetic Nephrology animal model by using SDT fatty rat with Physiogenex S.A.S., French preclinical CRO for metabolic disorders. By unilateral nephrectomy and salt water supplement, SDT fatty rat shows symptoms of human-resembled diabetic nephrology with various drug medication effects.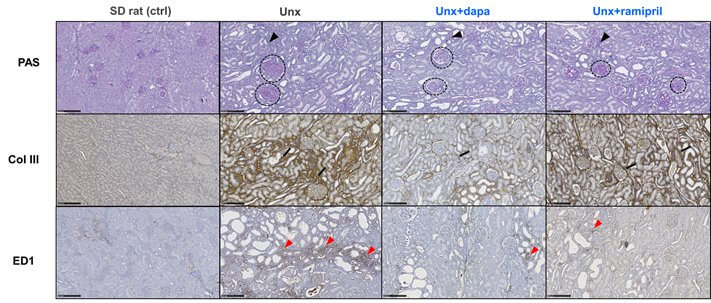 Methods:
SDT fatty rats underwent unilateral nephrectomy with 0.3% salt water supplement.
Characteristics:
1. Able to induce diabetic nephrology symptoms.
2. Able to execute drug test quickly. (complete 17 weeks to 25 weeks of age)
3. Able to observe GFR decreasing. (more than 50%)
4. Able to observe kidney damages in histopathological analysis.
5. Experienced drugs
- SGLT2 inhibitor (Dapaglifrozin)
- ACE inhibitor (Ramipril)
- SGLT2 and ACE inhibitor combination
- GLP-1 receptor agonists (Liraglutide)
Click here to see the SDT fatty rat Diabetic Nephrology development record.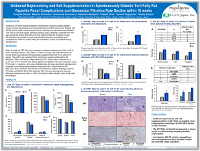 ■ Diabetic Retinopathy
CLEA Japan is also developing Diabetic Retinopathy animal model by using SDT fatty rat too. This project is proceeding with Physiogenex and Iris Pharma, French Ophthalmic CRO. SDT fatty rat was observed human-resembled diabetic retinopathy symptoms within 17 weeks of age, very short term.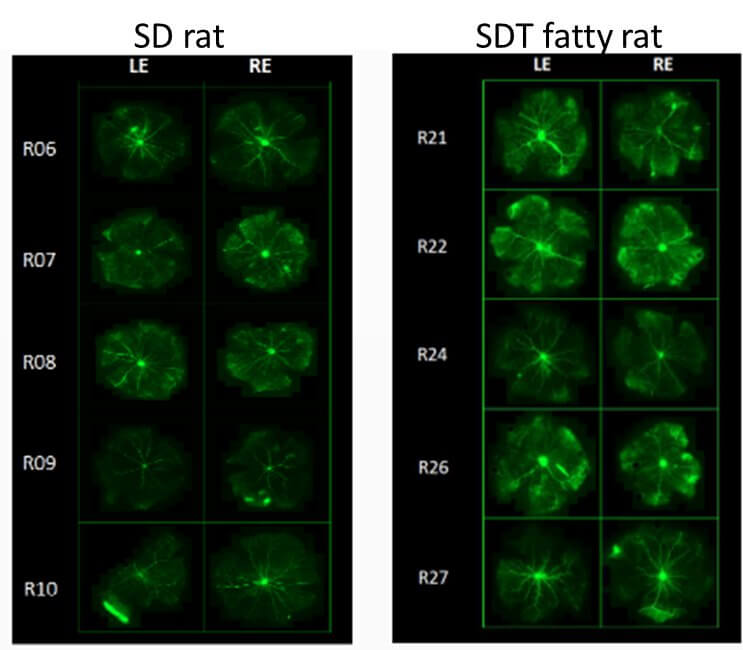 In comparison with SD rat, SDT fatty rat shows as below:
1. Electroretinography demonstrates retinal neurologic dysfunction in Unx SDT fatty rats from 12 weeks of age
2. In immunohistochemical staining for 17 weeks of age SDT fatty rat, vimentin positive cells, marker of Muller cells, are increased and GFAP, most widely used indicator of changes in Muller cells, is increased at the entire retina.
3. Evans blue retinal flat-mount of uni-nephrectomized 17 weeks of age SDT fatty rat shows vessel dilatation and tortuosity.
Click here to see the SDT fatty rat Diabetic Retinopathy development record.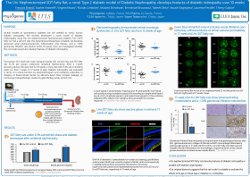 ■ Diabetic Heart Failure (Cardiovascular Disease)
CLEA Japan and Physiogenex discovered SDT fatty rat also shows human-resembled diabetic heart failure (cardiovascular disease) symptoms. The left ventricular hypertrophy, ventricular wall thickening, and heart failure with preserved ejection fraction (HFpEF) like symptoms are observed in 25 weeks of age. In addition, these symptoms show medication treatment effect by administrating GLP-1 agonist.

Diastolic and systolic function: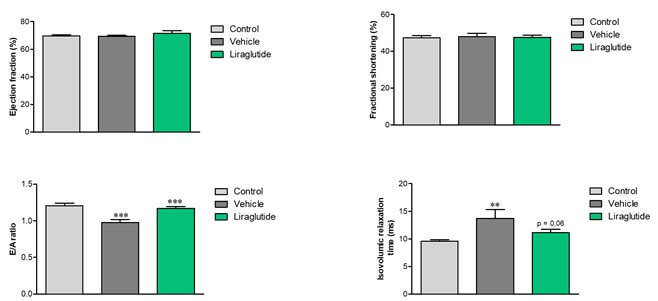 (Unpublished data)

Characteristics:
1. Shows diastolic dysfunction with preserved systolic function (HFpEF)
2. Shows the left ventricular hypertrophy, ventricular wall thickness.
3. Shows drug beneficial effect for cardiac hypertrophy and heart contraction disorder by GLP-1 receptor agonist.

Click here to see the related pdf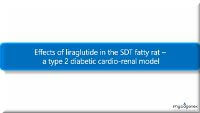 ■ SDT fatty Estimation and Ordering:
Please click here for the import procedure from CLEA Japan.

■ Contract Research Service:
Physiogenex, CLEA Japan SDT fatty rat development partner, can execute a contract research service for using SDT fatty rat. Please refer the below development / poster presentation records and consider Physiogenex can execute a study resemble of them.

Click here to go to Physiogenex website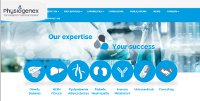 1. Diabetic Nephrology
>Click below




2. Diabetic Retinopathy
>Click below




3. Diabetic Cardiovascular Disease
>Click below


■ Inquiry
From Japan: Please ask us from below (English/Japanese)

From countries other than Japan: You can contact Physiogenex directly.
Please click here to go to Physiogenex Contact Form (Franch/English)