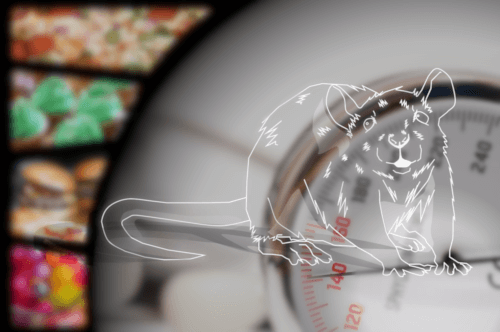 By cholesterol loading,
Obesity type 2 diabetes model SDT fatty rats shows human-like NASH pathology characteristics after 24 weeks of age.

Experimental animals treated as conventional NASH models reflect only a part of human pathology, and it is desired to develop model animals that show pathological conditions similar with humans.

Obese type 2 diabetes model SDT fatty rats loaded with a cholesterol-enriched diet show the characteristics of NASH pathology after 24 weeks of age. Below, we introduce the test results of promoting the onset of NASH pathology by loading cholesterol-enriched feed using SDT fatty rats.
*NASH:non-alcoholic steatohepatitis
▼ SDT fatty/Jcl product page


■ Method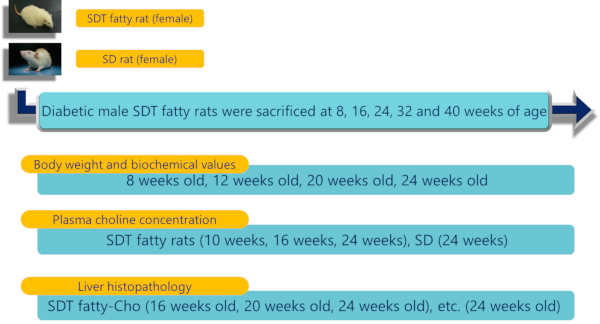 Female SDT fatty/Jcl and age matched female SD/Jcl rats
Feed standard (NC) and 2% cholesterol-added feed (Cho) for 16 weeks from 4 to 24 weeks of age
Body weight and biochemical values: 8 weeks old, 12 weeks old, 20 weeks old, 24 weeks old
Plasma choline concentration: SDT fatty rats (10 weeks, 16 weeks, 24 weeks), SD (24 weeks)
Liver histopathology: SDT fatty-Cho (16 weeks old, 20 weeks old, 24 weeks old), etc. (24 weeks old)
Reference:
Toriniwa Y, et al. Pathophysiological characteristics of prosperity such as non-alcoholic steatohepatitis in cholesterol-loaded type 2 diabetic rats.
Physiol. Res. 67: 601-612, 2018.


■ Result
▶ Body weight and biological parameters for each group.
Result 1
Compared with the SDT fatty-NC group, the blood glucose level was increased.
Similar with human NASH patients, plasma choline concentration was increased significantly at 24 weeks of age.
▶ Liver weight and lipid content level at 24 weeks of age
Liver analysis (24 weeks old):
Liver weight, Triglyceride (TG), Free fatty acid (FFA),
Total cholesterol (TC), Free cholesterol (FC)
Diacylglycerol (DAG), Diacylglycerol oxide (DAG-O)
Result 2
Compared with other groups, the SDT fatty-Cho group was increased in FFA, TG, DAG, TC and FC in the liver.
▶ Histopathological analysis of the liver at 24 weeks of age
HE staining (A, B, C, D) Sirius red staining (E, F, G, H)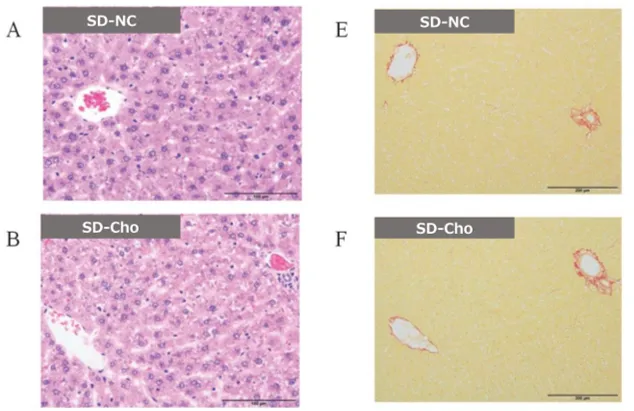 Histopathological findings in the liver
Result 3
According to histopathological analysis, SDT fatty-Cho group showed fatty degeneration and liver fibrosis significantly at 24 weeks of age.
▶ Neutral fat synthesis and secretion at 24 weeks.
Gene expression in the liver:
Lipid synthesis-related genes (SREB1, FAS, ACC)
(24 weeks old) Fibrosis-related genes (α-SMA, MTP)
Inflammatory genes (TNF-α, MCP-1)
Result 4
High expression of MCP-1 and TNF-α mRNA was shown in the liver, suggesting that hepatocyte damage and promotion of inflammation were promoted.
Liver mRNA expression associated with fibrosis, including Collagen Type 1 and TGF-β, was increased.
◆ Conclusion
Cholesterol loaded SDT fatty rat showed NASH promotion by the data of body weight, biochemical parameters, liver weight and lipid content, pathological analysis, triglyceride synthesis and secretion. SDT fatty rat shows the possibility as a highly useful animal model of NASH.
◆ Contact